Dowell 3d 1.75mm wood pla filament for industrial use 3d printer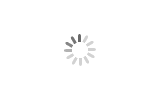 Dowell 3d 1.75mm wood pla filament for industrial use 3d printer
Dowell 3d

China

In a week after payment

10000kg/week
Luoyang Dowell Electronics Technology CO., Ltd is a high-tech enterprise specializing in R&D, manufacturing and sales 3D print materials including PLA filament, PETG filament, ABS filament, Nylon filament, ASA filament, Rainbow filament, Silk filament and other type of 3d filament in cheap price.

Wood PLA 3D filament made of real wood material with imported PLA, non-toxic, biodegradable, wood sweet smell.
The wood prints can be nailed, drilled and carved.
Dowell 3d 1.75mm wood pla filament for industrial use 3d printer

Specification of Dowell 3d PLA WOOD filament



Product
Wood filament
Diameter

1.75mm /2.85mm
Recommend print temp

205-230°c
Recommend bed temp
45-60°c
Recommend print speed
20-50mm/s
Melt mass flow rate

10.4g/10min (190°c/2.16kg)
Breaking elongation
61.62%
Color


Wood color

Contact us to take a new color catalog.

Net weight

1kg /3kg /5kg

Advantages

E

co-friendly; no bubble; low shrinkage; high strength; neat winding,constant diameter.

Customization

Color, packaging, Logo
Real wood material, can be nailed, drillable, carved.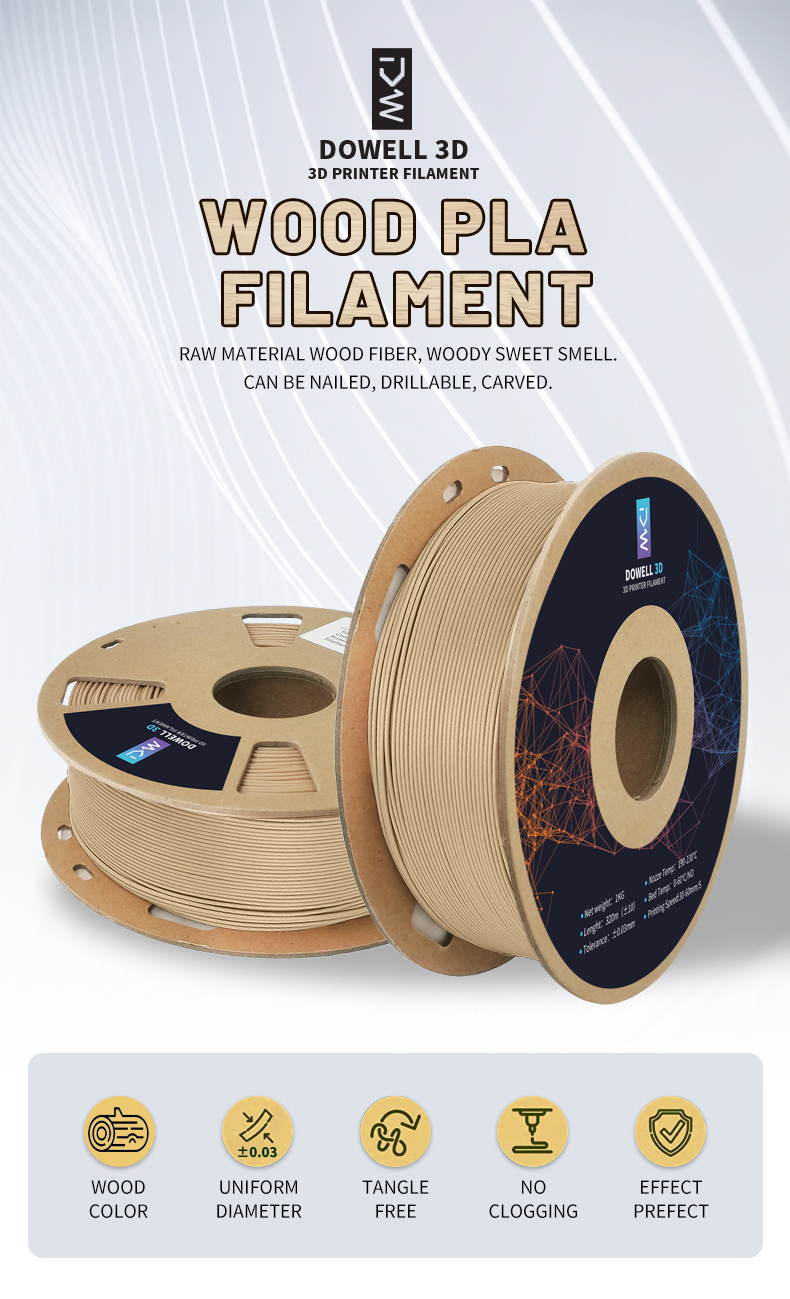 Native wood raw material mix improt PLA raw material. no warp, no bubble.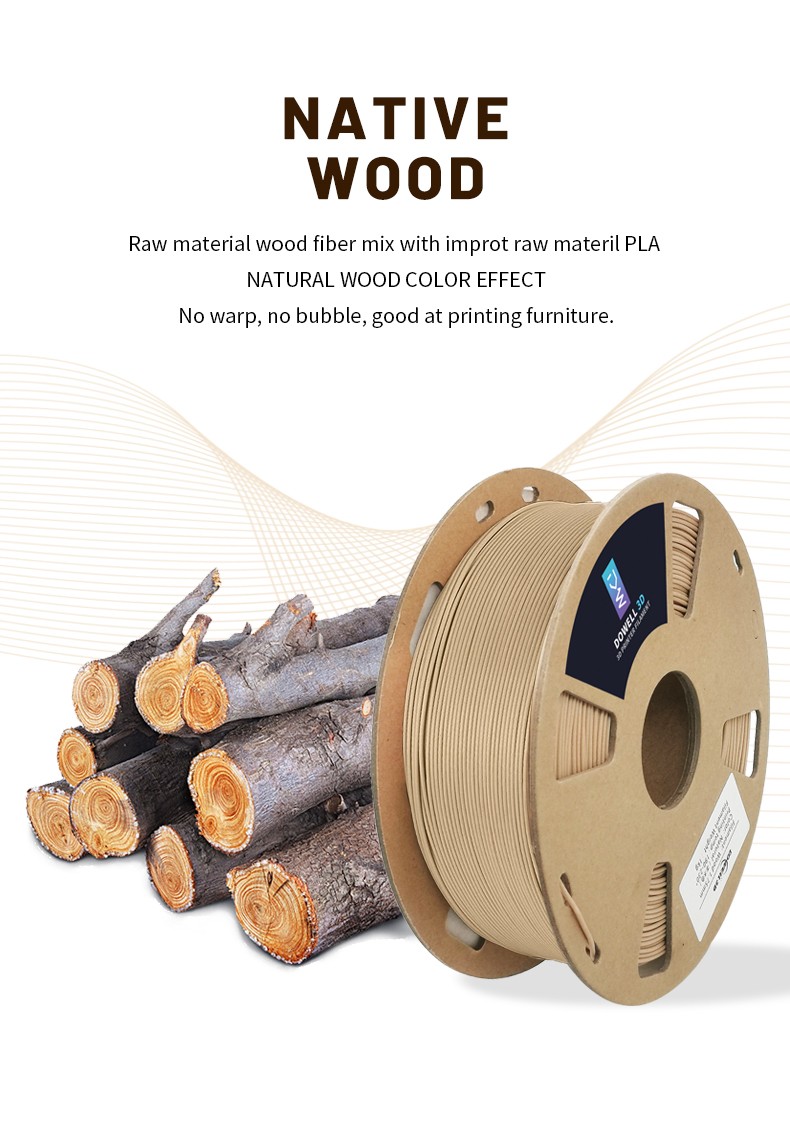 High diameter precision, constant diameter 1.75mm ±0.02mm, not block nozzle, make the printed model smooth surface.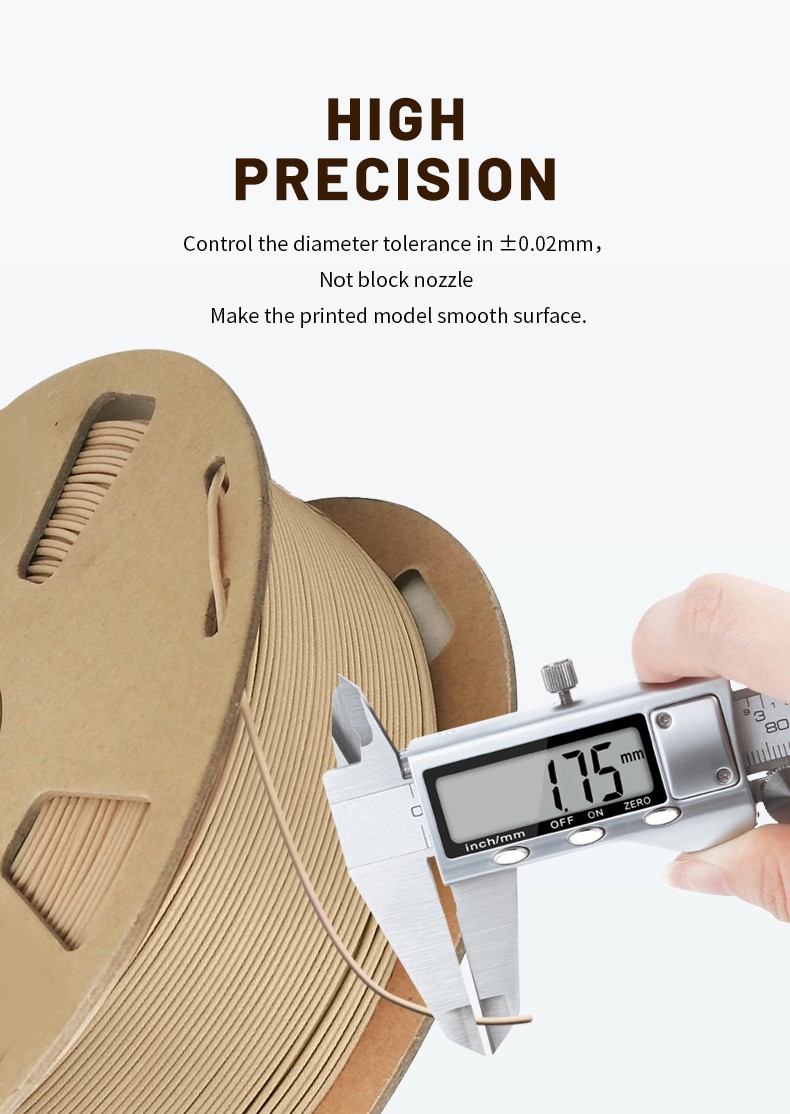 Neat winidng, never worry about knok during printing.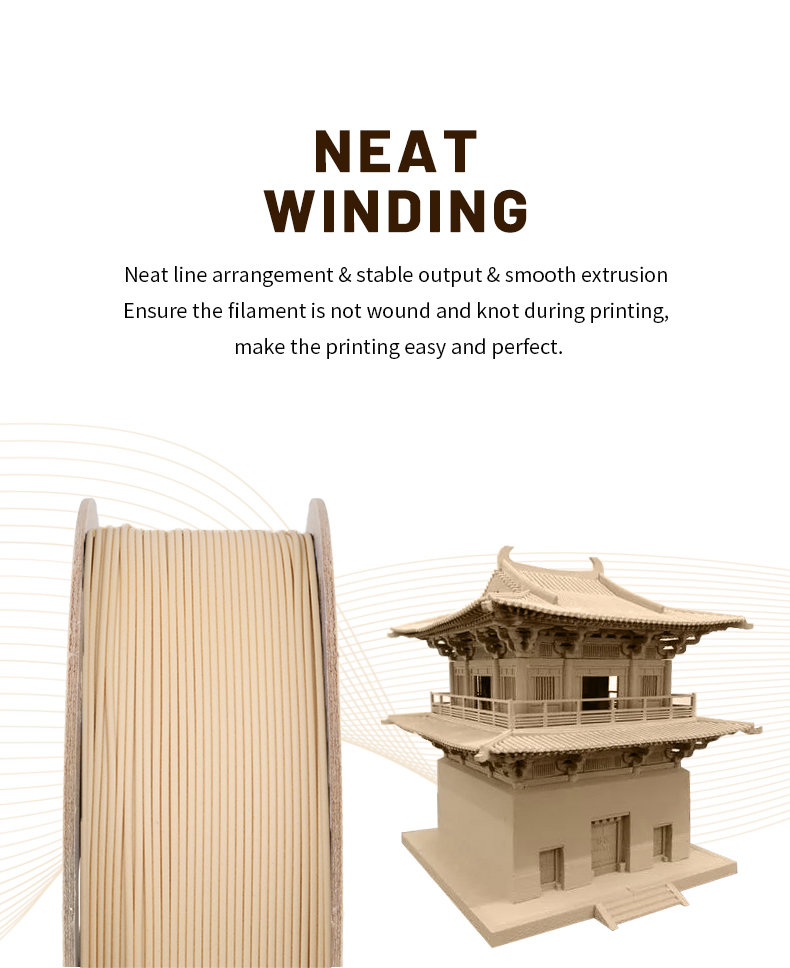 Fits almost FDM 3D Printers and 3D Pens on the market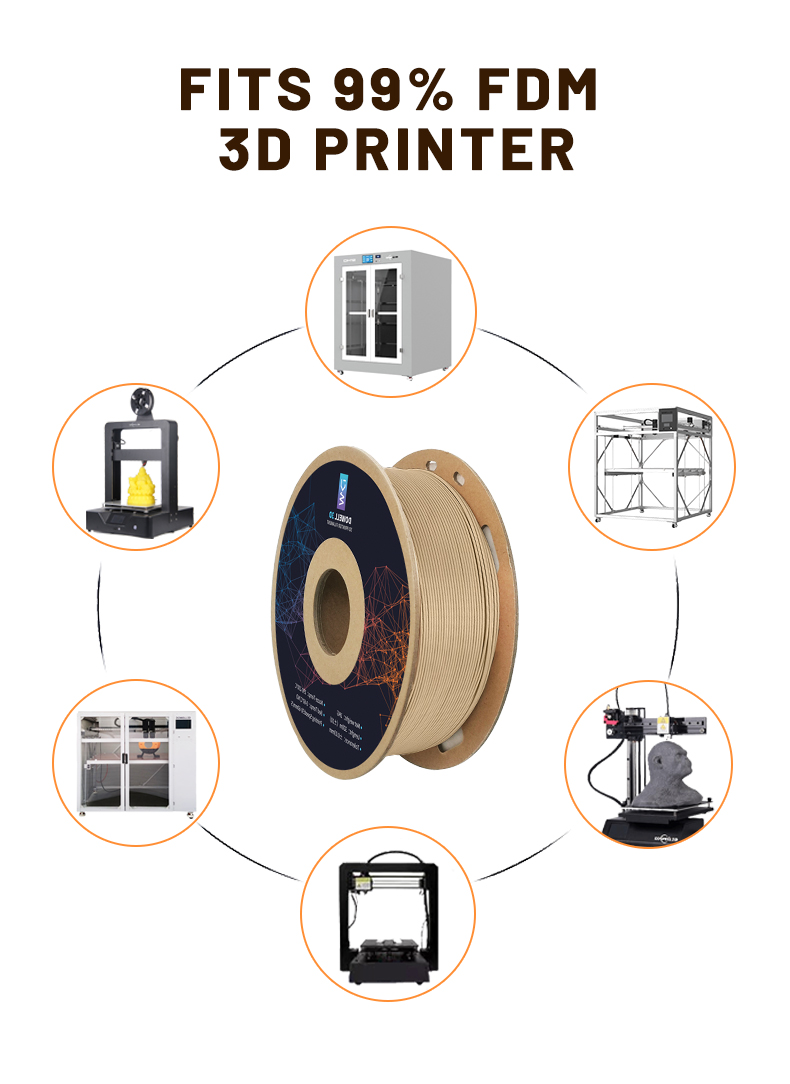 Neat winding, help you easy achieve smooth print.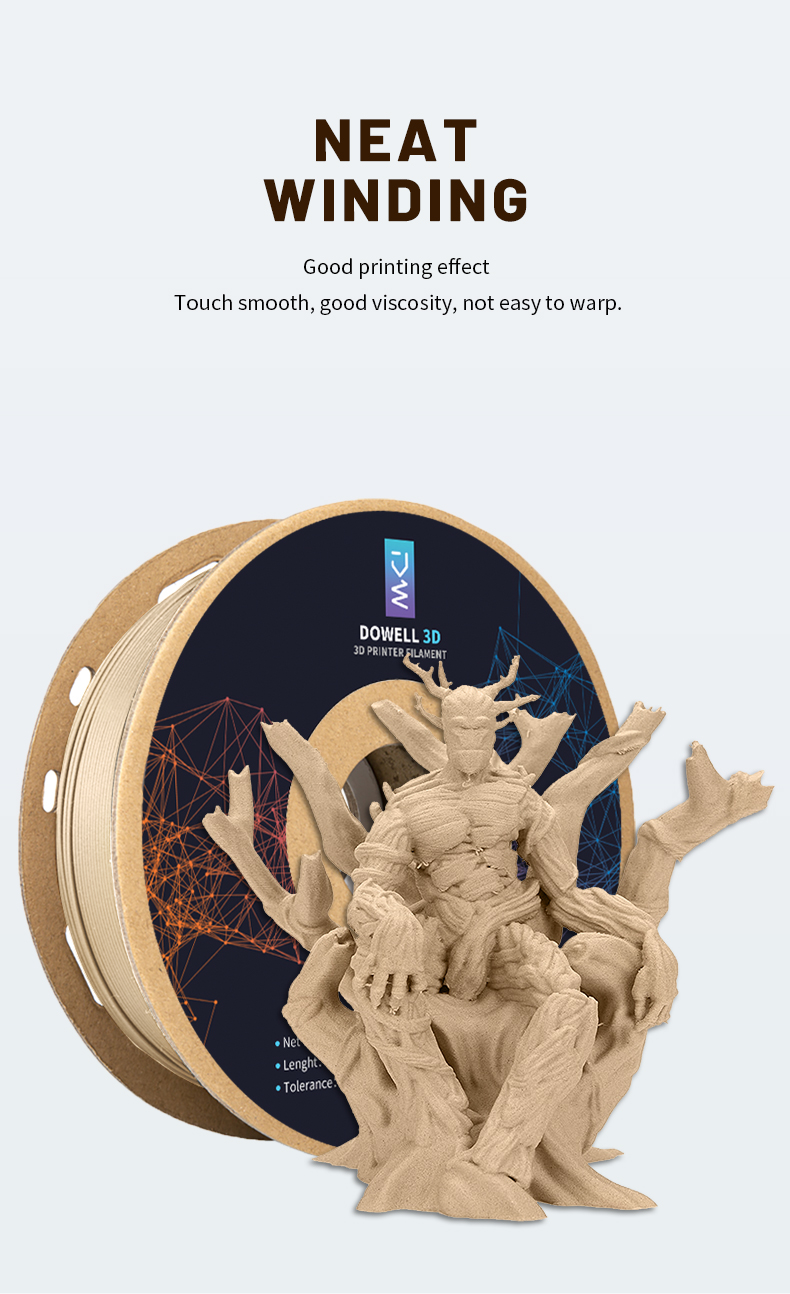 Packaging (Can be customized)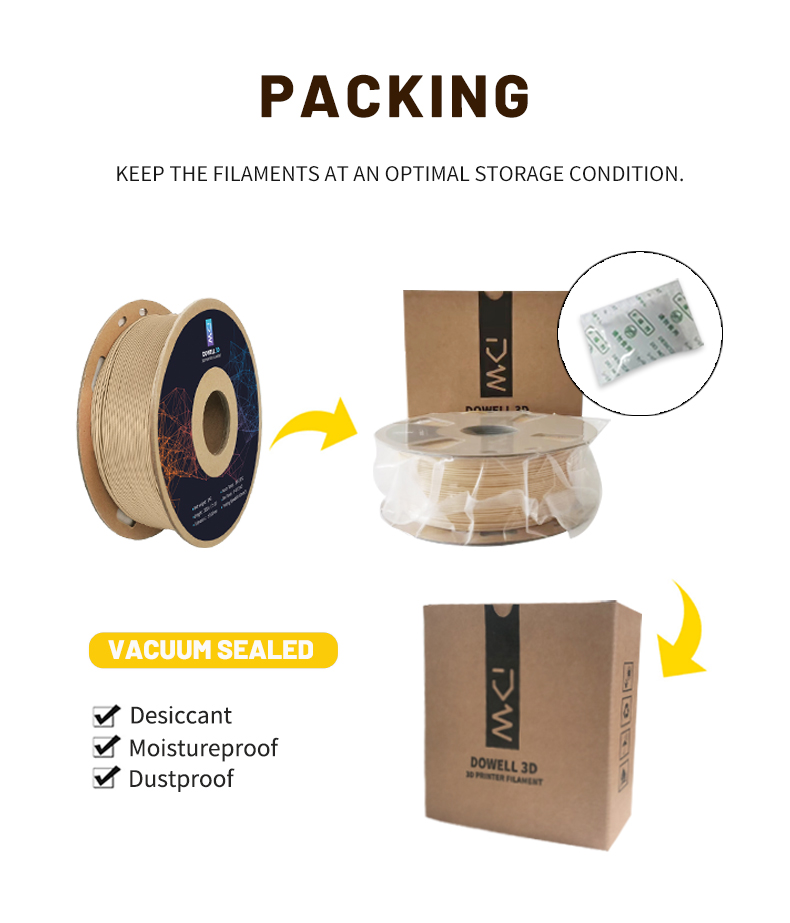 Production Control
1. Produce process
Before produce extruding filament, we will dry the raw materrial of PLA for a enough time

Mix with colors masterbatch or colors powder, all which certified with ROHS.

Adjust temperature and dragging rate , make filament diameter range at 1.75mm, ±0.02mm, each spool net weight 1kg/3kg/5kg.
2. Production quality control
Diameter laser detect kits to control extruding rate on line, when diameter smaller or higher than accept range, the laser detect kits will adjust the extruding rate higher or smaller to make diameter range at acceptable.
3. Winding
We have professional and advanced equipment that can arrange each roll of 3d printing material PLA filament neatly. There is no need to worry about stopping printing because of filament tangle in the printing process.
4. Packaging
Each spool packed in seal vaccum bag, never have to worry about moisture. each spool in a box, 10 boxes in a carton.
5. Research, developing, and other option service.
We have engineers that specialty in color formulation ,plastic modification, packaging, quality control ,producing control, we can do according to your requirements .

We offer customization service for custom make color, logo, packaging.



Why Choose Dowell 3D